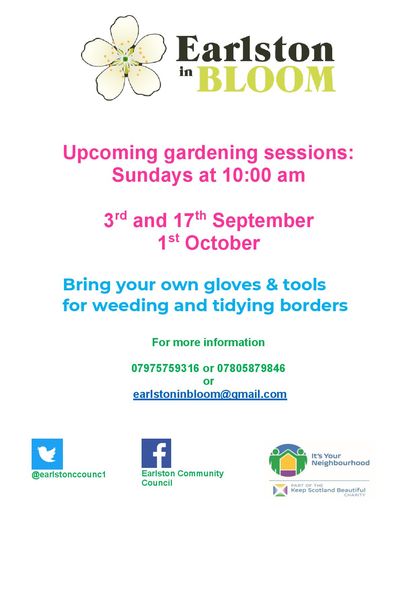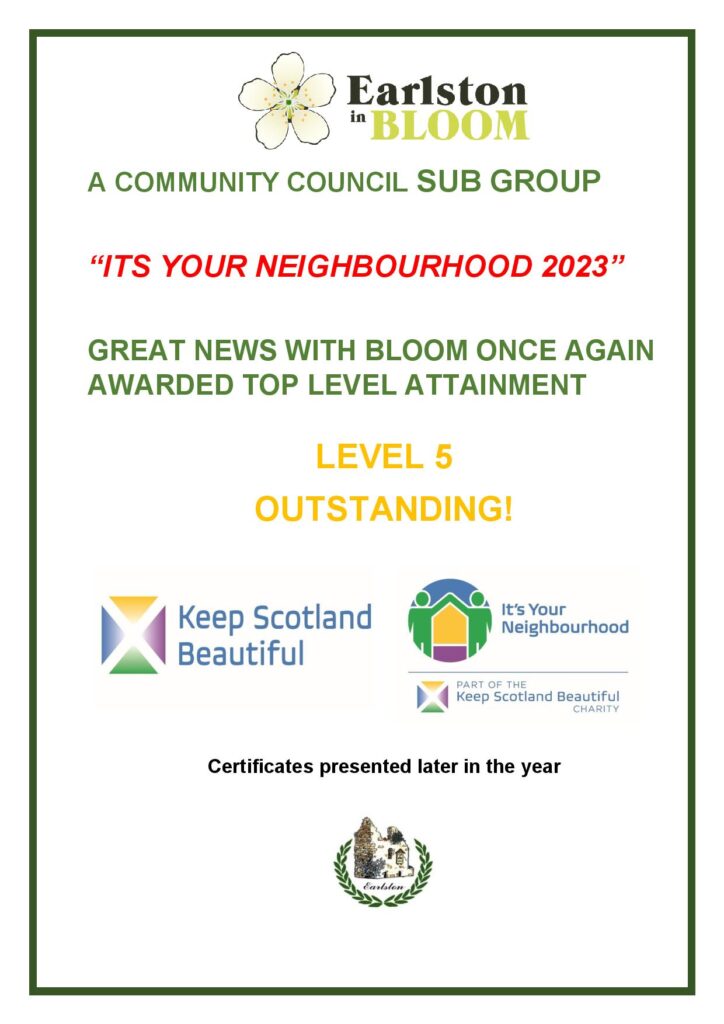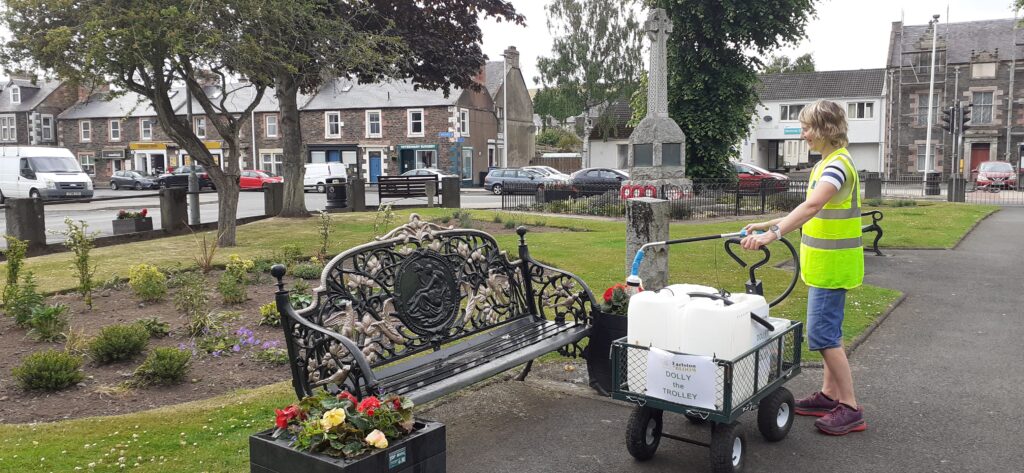 Earlston in Bloom became a Community Council subgroup after the Community Led Plan for Earlston was published in 2018, known locally as ECAP (Earlston Community Action Plan).
During the extensive community consultation residents said they would like to see planters, pots, hanging baskets and flower beds along the High Street and throughout the village with 78% of people supporting the proposal.
The plan was to make Earlston "An attractive, safe and welcoming place to live in and visit", establishing plans and teams to enhance Earlston's appearance.
Work began in earnest in 2019, supported by Community Council funding and the Co-op Good Causes scheme. The first five planters were bought and brought colour to the High Street with summer bedding and then winter pansies. It also took a real team effort to tackle the unloved borders on Church Brae. The Bloom logo was donated by a local business and represents the Thorn Trees beloved in the story of Thomas the Rhymer and the year ended with the first festival of Festive Foliage.
In late 2018 we took over Church Brae from SBHA who donated the first bulbs and plants for there. The In Bloom group of volunteers was formed not long after.
The pandemic stopped almost everything but Bloomers were eventually out there, socially distanced and weeding in sections. The summer bedding was praised as a real boost for the community going through difficult times and isolation. Unfortunately, the Lottery funded plans to renovate the High School Garden were put on hold until the next year.
Since 2021 the volunteers have worked hard on a variety of projects including the High Street, public community spaces at the Kidgate, Huntshaw Triangle, A68 and worked with local schools and community groups.
In 2022 fundraising helped purchase hanging baskets for the High Street, more planters and "Dolly the Trolley". She and Betty Bowser are crucial for summer watering when more non gardening volunteers come out to water, keeping plants looking great despite the heatwave.
Earlston in Bloom has taken part in Keep Scotland Beautiful initiative called It's Your Neighbourhood for the last two years and, after a glowing report last year, are keen to build on this success and welcome as many much needed volunteers as possible.